Employment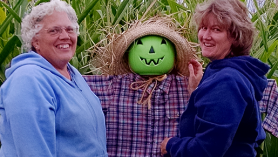 Beriswill Farms Team
We hire Fun Specialists
HELP WANTED
for the Market and Corn Maze at Beriswill Farms
.
At Beriswill's, our job is to help everyone find really good food and have a fun, happy day!
Positions we need to fill:
Market help – knowledge of meat and produce, cooking techniques, cash register operation
Market is open year-round Tuesday – Sunday, 11-6 weekdays, 10-5 weekends; We're thinking it might be helpful to have 2 or 3 people who could work 2 or 3 days or split days
Tractor Drivers – must have experience driving tractors with 75 or more horsepower; Smooth driving abilities; (18 or older)
General maze help – tasks include general customer interactions, running cash register and credit card machine, general maze and game-area operations, special tasks such as face painting; Might also include pumpkin picking and other general farm activities
Food help – tasks include preparing food, running cash register and credit card machine, serving food.
Overall expectations for maze
– Must be able to attend training session in August.
– Must be available Saturday Nights until 9 at least 3 Saturdays in October
– Must be able to work at least 8 hours each weekend between Sept 14 and Nov 6
– Must be responsible, reliable, hard-working, 16 years of age or older
– Must be able to lift 50 lbs for most positions
– We will work with you on schedule, but we will need to define work hours in advance.
– Must be able, willing to help our customers have a safe, fun time
– Must be able to help everyone work together
Help needed 10:30am – 6:30pm Tues – Sun, year-round in market; Saturday's Aug 15 – Nov 6 – 10am – 6 pm, Sunday's 11am – 6pm; various other times.
The market is open all year and we need help a days/week in the market.
Call Carol at 330-571-3905 or the Market at 330-350-2486 with questions.
If you're interested:
Print out and fill in the job application and email to [email protected] or drop it off at the market at 2200 Station Road in Valley City.